The Moving To Kelowna Podcast with Brandon Grass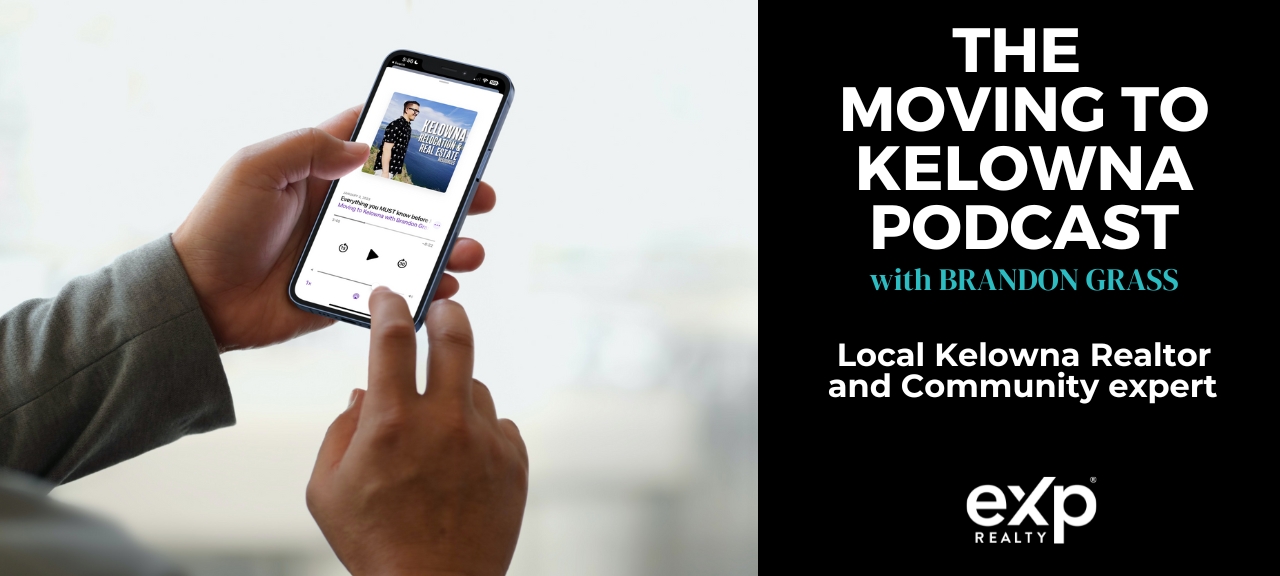 A Short Story About The Moving To Kelowna Podcast
Once upon a time, a local realtor and community expert named Brandon Grass lived in the picturesque city of Kelowna. Brandon was known for his unwavering commitment to helping buyers, sellers, investors, and those looking to relocate to the Kelowna area. He had a wealth of knowledge and a passion for sharing it with others.
One day, as Brandon was scrolling through his phone, he stumbled upon a brilliant idea. "Why not start a podcast to help even more people?" he thought. With excitement bubbling inside him, he immediately set to work.
But little did Brandon know that his podcasting journey would take an unexpected twist. You see, Brandon had a slight obsession with ordering recording equipment from Amazon. Every day, a new package would arrive, and his wife Lisa would raise an eyebrow, wondering just how many microphones and headphones one person could possibly need.
Brandon would chuckle and say, "Honey, it's all for the podcast. We need the best sound quality to give our listeners the ultimate experience!"
His wife would roll her eyes playfully and say, "Just don't turn our house into a recording studio, okay?"
But Brandon couldn't help himself. He was determined to create the best podcast possible, which meant having all the latest gadgets and gizmos. From microphone stands to soundproofing panels, his collection grew as fast as his excitement for the show.
Finally, after weeks of setting up his makeshift recording studio in the corner of their living room, Brandon was ready to launch his podcast: the Moving to Kelowna Podcast. He knew this podcast would be a valuable resource for anyone interested in the Kelowna real estate market.
In each episode, Brandon would share his expert advice, interview local professionals, and provide insightful tips and tricks. Whether it was finding the perfect neighbourhood, understanding the market trends, or navigating the buying and selling process, Brandon aimed to cover it all. He wanted to be the go-to guy for anyone considering a move to Kelowna.
As the first episode aired, Brandon's excitement soared. He imagined listeners tuning in from all corners of the world, eager to hear his wisdom. And to his delight, the podcast quickly gained a devoted following.
Listeners praised Brandon's friendly and approachable demeanour, finding his enthusiasm contagious. They appreciated his knack for blending valuable information with a touch of humour. And, of course, they couldn't help but chuckle at the ongoing Amazon delivery jokes, wondering if Brandon's wife had finally reached her breaking point.
But amidst the laughter, something magical was happening. The Moving to Kelowna Podcast became more than just a source of information; it fostered a sense of community. Listeners connected with each other, sharing stories and tips, forming friendships, and even collaborating on future episodes.
Brandon Grass, the team leader of the Brandon Grass Team at eXp Realty and the content creator for GreatKelownaHomes.ca, had unintentionally created a podcast and a movement. His passion for helping others had brought people together, and they were grateful for his dedication, even if it meant a few extra Amazon deliveries.
And so, as Brandon sat in his recording studio, surrounded by boxes and laughter, he couldn't help but smile. The Moving to Kelowna Podcast had become a testament to his love for Kelowna and his desire to make the moving process easier and more fun.
And as for Brandon's wife? Let's say she learned to embrace the ever-growing collection of recording equipment, secretly proud of her husband's dedication to helping others, one microphone at a time.